Elissa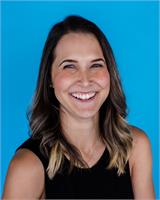 YOUR B BODY: I love Barre because it makes me feel pretty and strong at the same time. I never danced as a kid so this makes me feel like a dancer while allowing me the strength and fitness for my every day activities. I want to be able to keep up with my little one and be a positive role model for her. The only reason I Bounce is because I HATE running! Plus my cardio sucks so bouncing is a fun way to get my cardio in.
DANCE EXPERIENCE: I did competitive gymnastics as a kid but I never took dance.
FAVORITE CHILDHOOD FASHION FAD: The tiny multicoloured and shaped butterfly clips for your hair. Wearing those and the purple or silver sparkly lip chap (lipsmackers? Is that what is was called) made me feel really cool
CAN'T LIVE WITHOUT: chapstick. I get really cranky when my lips get dry
FAVORITE FOOD/DRINK: Salt and vinegar chips and margaritas
CURRENT HOBBIES: who has time for hobbies when you have a baby?
OCCUPATION: Mom- it's hard work; plus running our fitness studio
WORDS TO LIVE BY: "you never grow by how much you win, you only grow by how much work you put in"not sure who said this but it always stayed with me
Elissa is currently not instructing any classes.