Kyra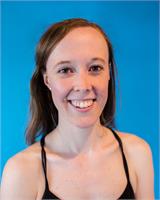 Hometown: Ottawa, ON
Why do you barre so hard?
It's such a great, well-rounded workout that changes for you over time. What we find challenging about a barre class evolves with us, as our bodies change - it really never gets easy and I think that's a good thing! For me, barre also provides a great counterbalance to the very analytical part of my brain that I work out during the day.
Tell us something that we don't know about you!

For part of the year, I work up in the most northerly part of Canada, at the very tip of Nunavut in those islands that everyone always forgets about - the reason that I'm not around the studio much in the summer! When I'm not at the barre, I'm working on my Ph.D. examining the impact of climate change on the largest high Arctic lake in the world.
Kyra instructs the following:
Standard Barre Body Fit Class with an extra 15 minutes of stretching at the end of class.




A 45min Class in the classic Barre Body Fit style for those on the go.




Come to this class for a higher, tighter, rounder tush. We'll run you through the regular Barre Body Fit class format you know and love with an extra emphasis on sculpting your seat, toning your hamstrings and strengthening your back. All levels welcome.