Kyra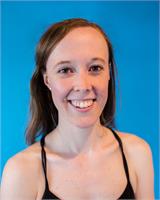 YOUR B BODY: I LOVE pastry but luckily, I also need to workout at least a little every day or I can't sleep!
DANCE EXPERIENCE: I did ballet when I was a kid but I've always hated when things get competitive, so I switched to music-enhanced workouts when I was a teenager!
FAVORITE CHILDHOOD FASHION FAD: Brightly coloured windbreakers! I still refuse to buy black for my outdoors gear!
CAN'T LIVE WITHOUT: My family
FAVORITE FOOD/DRINK: Oatmeal cookies/coffee
CURRENT HOBBIES: Yoga, hiking, cooking, reading, travel
OCCUPATION: Ph.D. student
WORDS TO LIVE BY: "It's very simple: we only see clearly with our hearts. What's essential is invisible to the eyes." Antoine de Saint-Exupéry
Kyra is currently not instructing any classes.