Erin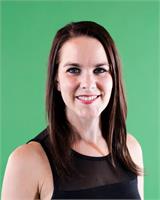 YOUR B BODY: Barre lets me eat cupcakes
DANCE EXPERIENCE: Started dancing at 4 years old with my mom being my first dance teacher. I took everything from tap and jazz to lyrical and musical theatre. Later on I danced with the Edmonton Crush Dance team for 1 season and the Edmonton Eskimos Cheer Team for 3 seasons.
FAVORITE CHILDHOOD FASHION FAD: I've always been a fan of leggings. Even as a child I sported a pair of patterned leggings just about everyday.
CAN'T LIVE WITHOUT: Good chocolate and wine
FAVORITE FOOD/DRINK: Tacos!
CURRENT HOBBIES: Swimming, taking walks with my baby
OCCUPATION: Human Resources
WORDS TO LIVE BY: "Be yourself, everyone else is taken" Oscar Wilde
Erin instructs the following:
B Strong is just as the name says, with the incorporation of weights in warm up and heavy weights in arms it will get that back of the body working right away. Building on the foundations of B Barre 60, B Strong turns up the resistance adding heavier weights, resistance bands and more focus on building long lean muscles. Targets the arms,abs and a**. Let's hustle for that muscle.




The original 60 minute class which incorporates full body, isometrics and mobility exercises into one jam packed, leg shaking, core blasting, muscle lengthening workout! The signature barre class of Studio B and the foundation for all other barre class variations.