Erika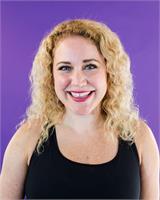 YOUR B BODY: Strong and Fit Over 40!!!
DANCE EXPERIENCE: Too many years to count as dancer, choreographer and performer!
FAVORITE CHILDHOOD FASHION FAD: Mondetta Flag Shirts - started my obsession with travel!
CAN'T LIVE WITHOUT: Starbucks Chai Tea
FAVORITE FOOD/DRINK: Iced Tea Lemonade with some pita chips and taziki
CURRENT HOBBIES: Reading, Biking, Cooking
OCCUPATION: Health Care ;)
WORDS TO LIVE BY: "Let It Go and Live In The Moment!"
Erika instructs the following:
The original 60 minute class which incorporates full body, isometrics and mobility exercises into one jam packed, leg shaking, core blasting, muscle lengthening workout! The signature barre class of Studio B and the foundation for all other barre class variations.