Mary Jo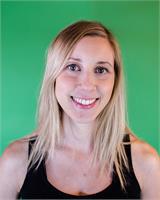 Why do you barre so hard?

Having danced growing up I missed the studio vibe and classical movements of ballet when working out. I have always made a point of being active but getting to the gym sometimes felt like a chore. The combination of dance, pilates and yoga inspired moves set to upbeat music is the perfect balance between form, function and fun. The workout is low impact yet effective and I know if I am a little sore the next day I have had a good workout. Exercising isn't a chore anymore and look forward to the days when I can hit the studio.
Enjoy the little things – what little things make you smile?
My little guy Jack. He is always full of smiles and makes me laugh all the time. Watching him grow is the best thing ever. I also have a dog named Charlie. He is a black Goldendoodle, otherwise known as the happiest furry teddy bear around.
Mary Jo instructs the following:
A 60min class designed to lengthen the muscles and improve core strength. The entire class will focus on targeting the core and includes 15 minutes of specific core work done on the mat to strength and improve posture.




One-hour of strength and flexibility training choreographed to music while incorporating the use of a ballet barre. A more basic approach to Barre Body Fit classes but equally as challenging.