Katarina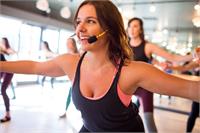 Why do you barre so hard?

Straight up, Barre is SO much fun! If you're going to work until your legs shake, you might as well have fun doing it. Barre has incredible side effects, both mental and physical. Physically, my body has changed so much! My legs are stronger than ever, I actually have arm muscles and of course, my backside is loving it too. Mentally, barre just makes me happy! I always walk out of a class, regardless if I was taking it or teaching it, with the biggest smile on my face!
Enjoy the little things - What little things make you smile?
Impromptu dance parties are my thing! I also love the color yellow, a good book, and catching up with family and friends.
Katarina instructs the following:
A 45min Class in the classic Barre Body Fit style for those on the go.




50min High Intensity Low Impact rebounder fitness class.




Come to this class for a higher, tighter, rounder tush. We'll run you through the regular Barre Body Fit class format you know and love with an extra emphasis on sculpting your seat, toning your hamstrings and strengthening your back. All levels welcome.




One-hour of strength and flexibility training choreographed to music while incorporating the use of a ballet barre. A more basic approach to Barre Body Fit classes but equally as challenging.