Charlotte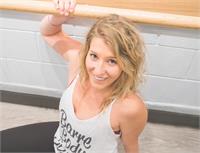 YOUR B BODY: Craves exercise and beer equally
DANCE EXPERIENCE: Lots of impromptu kitchen dance parties + years of toe taps on a soccer ball
FAVORITE CHILDHOOD FASHION FAD: it was and still is scrunchies and leggings
CAN'T LIVE WITHOUT: my golden retriever Murphy; what you might not know: the TV show Friends, i rewatch at least one episode almost every single day
FAVORITE FOOD/DRINK: I love anything except bacon, olives and mayo; Hawaiian Pizza with Cake Batter Froyo for dessert is pretty hard to beat though Drink: Peach flavoured Perrier
CURRENT HOBBIES: hike, hike, hike and hike
OCCUPATION: Student currently, but hopefully a doctor one day!
WORDS TO LIVE BY: "If you have the power to make someone happy- do it, the world needs more of that "
Charlotte instructs the following:
B Strong is just as the name says, with the incorporation of weights in warm up and heavy weights in arms it will get that back of the body working right away. Building on the foundations of B Barre 60, B Strong turns up the resistance adding heavier weights, resistance bands and more focus on building long lean muscles. Targets the arms,abs and a**. Let's hustle for that muscle.




The original 60 minute class which incorporates full body, isometrics and mobility exercises into one jam packed, leg shaking, core blasting, muscle lengthening workout! The signature barre class of Studio B and the foundation for all other barre class variations.