Charlotte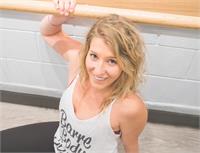 Why do you barre so hard?

Barre became my favourite work out almost instantly after my first class. It makes me feel graceful (most of the time), I am challenged every class, the music is great, the results are quick and the barre community is amazing. It's a work out that I never dread going to so I find it easy to motivate myself and I love the healthy lifestyle that goes hand in hand with barre.
If you had to choose 3 words to describe yourself, what would they be?
I know this is probably cheating but I went for a job interview once and they asked me the same question and my answer was "happy, friendly...and I don't know, I'm just really happy." Honestly, I was too nervous and couldn't think of another word at the time, but whoever was interviewing me took it as me just being double happy and hired me anyways so I'm sticking to it.
Charlotte instructs the following:
A 45min Class in the classic Barre Body Fit style for those on the go.




This is an advanced variation of the traditional Barre Body Fit class. Barre.Sweat.Tone is designed to challenge you with added cardio and strength training options.




Come to this class for a higher, tighter, rounder tush. We'll run you through the regular Barre Body Fit class format you know and love with an extra emphasis on sculpting your seat, toning your hamstrings and strengthening your back. All levels welcome.




One-hour of strength and flexibility training choreographed to music while incorporating the use of a ballet barre. A more basic approach to Barre Body Fit classes but equally as challenging.