Kirsten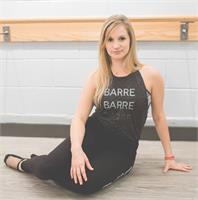 YOUR B BODY: Working out for the last glass of vino in the bottle. Our studio is the best audience for my audacious sense of humour. Let's face it, barre is a little dirty. I keep coming back though, the internal satisfaction of knowing I worked hard, challenged myself, and had enough influence on our clients, their day, their mood, to have them smile or focus so hard on an excercise and watch them flourish and strengthen.
DANCE EXPERIENCE: Since in utero! I've always moved to the music, or danced to the beat of my own drum. Ballet since I was a wee sprite of 5 years. Modern contemporary since I was a teenager.
FAVORITE CHILDHOOD FASHION FAD: Welly boots! Or as the Canadians call them rubber boots. I had one in almost every colour as a child! I'd wear them with shorts, dresses, skirts. Basically with anything, including fancy dress. I currently own 3 pairs!
CAN'T LIVE WITHOUT: Adventure, travel plans, lists (lists for everything—post-its for barre). Chocolate.. well I could but you might not want to talk to me as I can turn into the grinch
FAVORITE FOOD/DRINK: Sauvignon blanc— New Zealand my fav! Bubbly!! The real kind. Truffle fries ( but only after I've done a double barre class). Chocolate isn't a favourite, it's actually necessity
CURRENT HOBBIES: Barre, dance, outdoors in any capacity, reading.
OCCUPATION: RN
WORDS TO LIVE BY: "If you are comfortable, you are not challenging yourself. If you are not challenging yourself you aren't growing. Take a chance, take a leap. You won't know until you try. Sometimes you need to walk away to gain perspective. That's OK. You can, you should and if you're brave enough you will. Stand up for what you believe is right. Follow your gut. Listen to that quiet little voice before she starts screaming I told you so! "
Kirsten instructs the following:
B Strong is just as the name says, with the incorporation of weights in warm up and heavy weights in arms it will get that back of the body working right away. Building on the foundations of B Barre 60, B Strong turns up the resistance adding heavier weights, resistance bands and more focus on building long lean muscles. Targets the arms,abs and a**. Let's hustle for that muscle.




Get all the benefits of rebounding without the intensity. 10 mins on the rebounder - 50 mins of standing and mat work. If rebounding is not for you, no problem all the rebounding work can be done on the floor with no impact.




The original 60 minute class which incorporates full body, isometrics and mobility exercises into one jam packed, leg shaking, core blasting, muscle lengthening workout! The signature barre class of Studio B and the foundation for all other barre class variations.




Bold isn't just in the name for fun, the B Bold class incorporates the bones of the B Barre 60 class but with added intensity and cardio which will leave you feeling like jello — in a good way. This is our heaviest cardiovascular intensive class, with five cardio blasts throughout class, while maintaining combination series, and mobility and flow movements to keep the heart rate up and those sweat glands active!




Building on the foundation of B Barre 60, B CORE Flow slows down the movement to turn up the flow. With an increased focus on breath, movement, flow, and flexibility this class will target the core from start to finish. We may have taken out the cardio, but that doesn't mean we have taken out the intensity. Get ready to flow your way to a stronger, tighter core.