Kirsten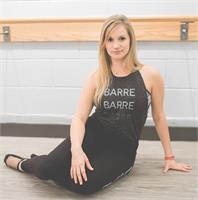 Hometown:
Durban, South Africa
Why do you barre so hard?
I barre so hard for the results. I love the endorphins and the positive attitude I leave the class with. I love what barre has done to my body. I love the fact I need to go out and buy a bigger pair of jeans to fit my butt, and a smaller top to fit my waist.
If you were stranded on a deserted island, what would you bring with you?

Sun cream, a great book, rum and coke in a giant cooler.
Kirsten instructs the following:
This is an advanced variation of the traditional Barre Body Fit class. Barre.Sweat.Tone is designed to challenge you with added cardio and strength training options.




A 45min Class in the classic Barre Body Fit style for those on the go.




One-hour of strength and flexibility training choreographed to music while incorporating the use of a ballet barre. A more basic approach to Barre Body Fit classes but equally as challenging.