Kirsten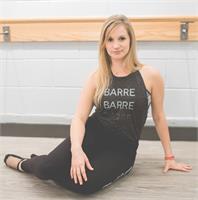 Hometown:
Durban, South Africa
Why do you barre so hard?
I barre so hard for the results. I love the endorphins and the positive attitude I leave the class with. I love what barre has done to my body. I love the fact I need to go out and buy a bigger pair of jeans to fit my butt, and a smaller top to fit my waist.
If you were stranded on a deserted island, what would you bring with you?

Sun cream, a great book, rum and coke in a giant cooler.
Kirsten instructs the following:
A 45min Class in the classic Barre Body Fit style for those on the go.




A 60min class designed to lengthen the muscles and improve core strength. The entire class will focus on targeting the core and includes 15 minutes of specific core work done on the mat to strength and improve posture.




One-hour of strength and flexibility training choreographed to music while incorporating the use of a ballet barre. A more basic approach to Barre Body Fit classes but equally as challenging.