Kristin G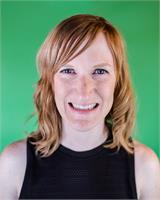 YOUR B BODY: Barre is my therapy, so I worry less about the outside and more about how I feel on the inside. It makes me happy and it makes me mentally stronger.
DANCE EXPERIENCE: None! Seriously, my moves would make you cringe (and then laugh).
FAVORITE CHILDHOOD FASHION FAD: Mismatched neon socks and overalls.
CAN'T LIVE WITHOUT: Floss.
FAVORITE FOOD/DRINK: Coffee and pastries.
CURRENT HOBBIES: Is work a hobby? With work, a family and barre, there is not much time for anything else. But some day maybe hobbies will return to my life.
OCCUPATION: Freelance Graphic Designer
WORDS TO LIVE BY: "If you can't love yourself how in the hell are you going to love somebody else" Ru Paul
Kristin G instructs the following:
The original 60 minute class which incorporates full body, isometrics and mobility exercises into one jam packed, leg shaking, core blasting, muscle lengthening workout! The signature barre class of Studio B and the foundation for all other barre class variations.




B Strong is just as the name says, with the incorporation of weights in warm up and heavy weights in arms it will get that back of the body working right away. Building on the foundations of B Barre 60, B Strong turns up the resistance adding heavier weights, resistance bands and more focus on building long lean muscles. Targets the arms,abs and a**. Let's hustle for that muscle.