Emily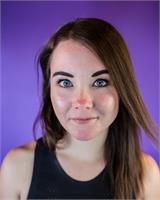 YOUR B BODY: I love the body I have because it's something that I've consciously made. Through running, lifting, spinning, and barre I've made a vessel that I'm completing comfortable in and respect daily. I also love my barre body because it lets me do things BETTER. I'm an avid hiker. Since going to barre I've noticed that the increased strength I have in in my accessory muscles allows me to climb without fatiguing as quickly. I've also noticed improved recovery.
DANCE EXPERIENCE: I danced for 13 years at Devon School of Dance. Tap was my favorite but I did ballet, jazz and contemporary as well. Shoutout to Studio B client Kim Ehlers who owns Devon School of Dance. So fun running into her at barre after 5+ years apart.
FAVORITE CHILDHOOD FASHION FAD: I wasn't big into fashion but I had like three lulu lemon scuba hoodies that I would zip all the way up to my chin and thought I looked hella fresh in.
CAN'T LIVE WITHOUT: My eyebrows
FAVORITE FOOD/DRINK: Lentil bolognese, pasta, homemade bread, IPAs, vegan lasagna. It goes on.
CURRENT HOBBIES: Knitting, craft beer, reading, kayaking, hiking
OCCUPATION: Dietitian
WORDS TO LIVE BY: "Your softness is not your weakness. Your kindness is your strength." R.h. Sin
Emily instructs the following:
Building on the foundation of B Barre 60, B CORE Flow slows down the movement to turn up the flow. With an increased focus on breath, movement, flow, and flexibility this class will target the core from start to finish. We may have taken out the cardio, but that doesn't mean we have taken out the intensity. Get ready to flow your way to a stronger, tighter core.