Jaime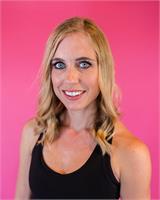 YOUR B BODY: I love how barre has made my body feel strong, capable, and confident. It is up for any challenge that life throws my way. I have also gained mental stamina to push through the barre burn/shakes which is such a rewarding feeling.
DANCE EXPERIENCE: I danced for many years when I was younger growing up in Fort McMurray - all styles (tap, jazz, ballet, hip hop, etc). I also instructed tap and jazz classes for younger children before I came to Edmonton for university.
FAVORITE CHILDHOOD FASHION FAD: I was a big fan of platform shoes and excessive amounts of sparkly white eye shadow. In hindsight this was not such a good look
CAN'T LIVE WITHOUT: pizza and wine!
FAVORITE FOOD/DRINK: as above. And I also love sour candies.
CURRENT HOBBIES: Hiking, running, snowshoeing, traveling, and spending time at the barre studio with the lovely staff and clients.
OCCUPATION: Hospital Pharmacist
Jaime instructs the following:
Get all the benefits of rebounding without the intensity. 10 mins on the rebounder - 50 mins of standing and mat work. If rebounding is not for you, no problem all the rebounding work can be done on the floor with no impact.




B Strong is just as the name says, with the incorporation of weights in warm up and heavy weights in arms it will get that back of the body working right away. Building on the foundations of B Barre 60, B Strong turns up the resistance adding heavier weights, resistance bands and more focus on building long lean muscles. Targets the arms,abs and a**. Let's hustle for that muscle.




All the best parts of B Barre, condensed into a quick and easy format made for those lunch or early morning go getters. Warm up and weights are combined and more combination exercises and full body movements replace the cardio blasts.