Lauren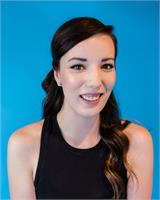 Height: 6'
YOUR B BODY: My barre body has helped me overcome injuries allowing me to be a functional being again. It also lets me keep an excellent amount of pasta and beer in my life!
DANCE EXPERIENCE: 20+ years as a tap dancer, dabbling in jazz for many years as well.
FAVORITE CHILDHOOD FASHION FAD: The forever coordinating outfits my sister and I had - track suits, dresses, jackets.
CAN'T LIVE WITHOUT: My beats! Music fuels my soul.
FAVORITE FOOD/DRINK: Dumplings... coffee... breakfast foods... basically if you ever ask me if I'm hungry, the answer is 'always'.
CURRENT HOBBIES: Golfing, checking out the local food scene, listening to podcasts, baking, boxing, and the occasional netflix binge.
OCCUPATION: Health Promotion Facilitator
WORDS TO LIVE BY: "How you choose to show up magnetizes what shows up for you."
Lauren instructs the following:
The original 60 minute class which incorporates full body, isometrics and mobility exercises into one jam packed, leg shaking, core blasting, muscle lengthening workout! The signature barre class of Studio B and the foundation for all other barre class variations.