Lauren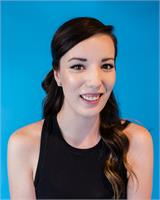 Name: Lauren Hometown: Saskatoon, SK Why do you barre so hard?
For the beats, the motivation, and the connection to one's body. There
is nothing like hearing that beat drop when you go into that combo
movement and you whisper to yourself, "You got this…" (or is that just
me?) The barre community here is so welcoming, inspiring, and
empowering. Barre has pushed me further in my physical and mental
state. If I push myself to hold that squeeze just a little longer at the
barre, I can push myself to do a lot more! Tell us something that we don't know about you! I'm a tap dancer! I've grown up tap dancing unofficially since I was 2
(thanks to my sis) and officially when I was 4! That's why I love music
that has a good beat to it. It's instinctual for me groove out to that kind of music.
Lauren instructs the following:
This class is designed to have you winning push up contests in no time! Structured like our signature Barre Body Fit class, you can expect to get a full body workout while focusing on your arms. More weights, more upper body resistance, more reasons to wear tank tops all year round




Come to this class for a higher, tighter, rounder tush. We'll run you through the regular Barre Body Fit class format you know and love with an extra emphasis on sculpting your seat, toning your hamstrings and strengthening your back. All levels welcome.




A 45min Class in the classic Barre Body Fit style for those on the go.