Michelle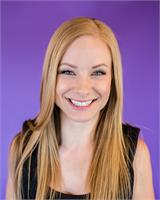 Why do you barre so hard?
I barre so hard for the burn, the booty, the beats and the babes! I love feeling my body working hard, so the fact that barre can get my muscles burning & shaking in minutes is addicting. The results are incredible; it definitely keeps my body in shape and always feeling strong. I love the music and energy in each class and I always look forward to being around the inspiring instructors & clients.
Tell us something we don't know about you!
I was a figure skater for most of my life up until my second year of University – I did singles skating as well as synchronized skating.
Michelle instructs the following:
This class is designed to have you winning push up contests in no time! Structured like our signature Barre Body Fit class, you can expect to get a full body workout while focusing on your arms. More weights, more upper body resistance, more reasons to wear tank tops all year round




A 45min Class in the classic Barre Body Fit style for those on the go.




50min High Intensity Low Impact rebounder fitness class.




One-hour of strength and flexibility training choreographed to music while incorporating the use of a ballet barre. A more basic approach to Barre Body Fit classes but equally as challenging.




Standard Barre Body Fit Class with an extra 15 minutes of stretching at the end of class.