Michelle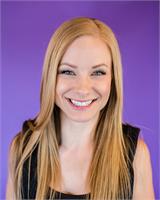 YOUR B BODY: My barre/bounce body is a powerhouse, it literally carries me through each & every day - from work, to workouts, to running errands and meeting up with friends. I workout so that I can keep my body healthy & happy. Not only does working out give me the strength to participate in numerous activities (like obstacle course runs, which I love!!), but it also gives me the strength to power through day to day activities (like groceries and HAVING to take them all inside in one trip). Working out also not only nourishes my physical body, but also my mind - every workout is like a mental reset, giving me more clarity and energy to take on the rest of the day. Oh.. and I like nachos... and ice cream, like A LOT, so I also work out because of that.
DANCE EXPERIENCE: Does dancing on ice count!? I was a figure skater for 15 years, doing both singles skating & synchronized skating.
FAVORITE CHILDHOOD FASHION FAD: Buffalo (platform) shoes, carefully paired with a skirt overtop of pants & topped off with some butterfly clips (thank you Spice Girls)
CAN'T LIVE WITHOUT: My music
FAVORITE FOOD/DRINK: NACHOS!!!!!
CURRENT HOBBIES: Making wedding invitations, and Sudoku puzzles
OCCUPATION: Office Administrator at our family owned company
WORDS TO LIVE BY: "What we know matters, but who we are matters more." Brené Brown
Michelle instructs the following:
The original 60 minute class which incorporates full body, isometrics and mobility exercises into one jam packed, leg shaking, core blasting, muscle lengthening workout! The signature barre class of Studio B and the foundation for all other barre class variations.




50min High Intensity Low Impact rebounder fitness class.




B Strong is just as the name says, with the incorporation of weights in warm up and heavy weights in arms it will get that back of the body working right away. Building on the foundations of B Barre 60, B Strong turns up the resistance adding heavier weights, resistance bands and more focus on building long lean muscles. Targets the arms,abs and a**. Let's hustle for that muscle.




All the best parts of B Barre, condensed into a quick and easy format made for those lunch or early morning go getters. Warm up and weights are combined and more combination exercises and full body movements replace the cardio blasts.




Bold isn't just in the name for fun, the B Bold class incorporates the bones of the B Barre 60 class but with added intensity and cardio which will leave you feeling like jello — in a good way. This is our heaviest cardiovascular intensive class, with five cardio blasts throughout class, while maintaining combination series, and mobility and flow movements to keep the heart rate up and those sweat glands active!