Jill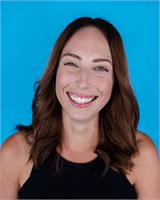 YOUR B BODY: I workout to remind myself of how capable my body is, how grateful I am to be able to move and to get as sweaty as possible!
DANCE EXPERIENCE: Zero (ish)! I did one jazz and ballet class when I was 7. After my short stint in dance I decided to pursue soccer and ended up playing competitively through university – Go Griffs go!
FAVORITE CHILDHOOD FASHION FAD: I was a bit of a tomboy growing up and was all about the tear away pants, pony's and adidas high tops.
CAN'T LIVE WITHOUT: My paper agenda, deodorant & coffee.
FAVORITE FOOD/DRINK: Miss Vickie's chips, guacamole, pasta and tater tots!
CURRENT HOBBIES: Running, listening to podcasts, paddle boarding out at the lake, traveling with the hubs and drinking wine (that's a hobby, right?)!
OCCUPATION: Marketing Consultant
WORDS TO LIVE BY: "Starve the ego, feed the soul."
Jill instructs the following: