Sarah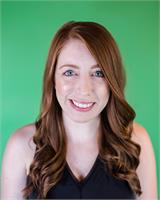 YOUR B BODY: Balanced. I love to work out, but also have a raging sweet tooth!
DANCE EXPERIENCE: Started ballet when I was 2.5 years old. Trained in ukrainian, modern & jazz, but mostly classical ballet.
FAVORITE CHILDHOOD FASHION FAD: Neon printed track jackets
CAN'T LIVE WITHOUT: Coffee! ...or really anything caffeinated!
FAVORITE FOOD/DRINK: Chocolate.
CURRENT HOBBIES: Being at the studio- taking or teaching class.
OCCUPATION: Registered Nurse
WORDS TO LIVE BY: "Toss your hair in a bun, drink some coffee, put on some gangsta rap, and handle it"
Sarah instructs the following:
B Strong is just as the name says, with the incorporation of weights in warm up and heavy weights in arms it will get that back of the body working right away. Building on the foundations of B Barre 60, B Strong turns up the resistance adding heavier weights, resistance bands and more focus on building long lean muscles. Targets the arms,abs and a**. Let's hustle for that muscle.