Jessica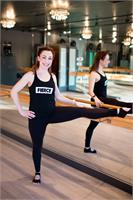 Name: Jessica
Hometown: Edmonton, AB
Why do you barre so hard?
I love barre because it continues to challenge me! I love how each week I feel stronger and can barre harder than the last, but I also can always challenge myself to be stronger, hold longer, sink deeper. I love that it is a mental practice just as much as a physical workout. When I'm at barre I can't worry about my day to day stresses, I can only focus on myself, in the moment. I find that very meditative.
What is your favourite quote?
Life is not about waiting for the storm to pass, it about learning to dance in the rain!
Jessica instructs the following:
A 45min Class in the classic Barre Body Fit style for those on the go.




One-hour of strength and flexibility training choreographed to music while incorporating the use of a ballet barre. A more basic approach to Barre Body Fit classes but equally as challenging.