Hannah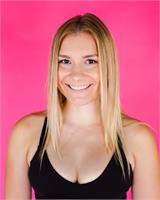 YOUR B BODY: I bounce and barre so I eat whatever my heart desires, to beat olympians at their own sports and to keep my asthma in control!
DANCE EXPERIENCE: 19 years of on going dance training in ballet, jazz, contemporary and others! Trained in Russia to obtain my Russia ballet certification and I have my teaching certification for ISTD ballet as well!
FAVORITE CHILDHOOD FASHION FAD: Socks in sandals or double buns
CAN'T LIVE WITHOUT: Kinder chocolate and my puppy Earl
FAVORITE FOOD/DRINK: Grilled cheese, KD and 1/2 sweet non-fat caramel macchiatos
CURRENT HOBBIES: Instagramming, water colour painting, trying new food and restaurants and traveling!
OCCUPATION: Student, Barre and SOAR instructor and dance teacher
WORDS TO LIVE BY: "Nevertheless she Persisted!"
Hannah instructs the following:
The original 60 minute class which incorporates full body, isometrics and mobility exercises into one jam packed, leg shaking, core blasting, muscle lengthening workout! The signature barre class of Studio B and the foundation for all other barre class variations.




All the best parts of B Barre, condensed into a quick and easy format made for those lunch or early morning go getters. Warm up and weights are combined and more combination exercises and full body movements replace the cardio blasts.




This 50 minute class will get your heart rate lifted and your muscles burning. This class will be 25 minutes of cardio and 25 minutes of burn tracks to get those muscles to shake.




Bold isn't just in the name for fun, the B Bold class incorporates the bones of the B Barre 60 class but with added intensity and cardio which will leave you feeling like jello — in a good way. This is our heaviest cardiovascular intensive class, with five cardio blasts throughout class, while maintaining combination series, and mobility and flow movements to keep the heart rate up and those sweat glands active!