Jen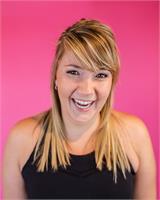 YOUR B BODY: I love the satisfying feeling I get when I push my body as far as it will go. When I push myself to the breaking point, bringing on the shakes, I feel stronger than I did yesterday!
DANCE EXPERIENCE: I danced for sixteen years. I have also participated in cheerleading and gymnastics.
FAVORITE CHILDHOOD FASHION FAD: Anything Disney! When I was a kid I was obsessed with Peter Pan and even attempted to fly! Thank goodness I was not hurt too bad, but I quickly learned my lesson.
CAN'T LIVE WITHOUT: I can't live without my friends and family definitely. They are everything to me!
FAVORITE FOOD/DRINK: Lasagna for the win!
CURRENT HOBBIES: Volleyball, dancing, and music.
OCCUPATION: A little bit of everything: youth worker for homeless kids, lifeguard, and professional drill sergeant on the trampoline.
WORDS TO LIVE BY: "I am who I am today because of the choices I made yesterday."- Eleanor Roosevelt
Jen instructs the following:
This 50 minute class will get your heart rate lifted and your muscles burning. This class will be 25 minutes of cardio and 25 minutes of burn tracks to get those muscles to shake.




Building on the foundation of B Barre 60, B CORE Flow slows down the movement to turn up the flow. With an increased focus on breath, movement, flow, and flexibility this class will target the core from start to finish. We may have taken out the cardio, but that doesn't mean we have taken out the intensity. Get ready to flow your way to a stronger, tighter core.




50min High Intensity Low Impact rebounder fitness class.