Carla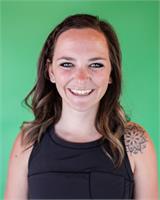 YOUR B BODY: I workout to keep myself happy and stress free. Also the amount of dessert I eat needs to somehow be offset.
DANCE EXPERIENCE: 0
FAVORITE CHILDHOOD FASHION FAD: Scrunchies, still rocking them.
CAN'T LIVE WITHOUT: A water bottle, I bring a water bottle with me almost everywhere I go.
FAVORITE FOOD/DRINK: Mexican, I could live off of tacos and margarita's. I also love the Egg Yolk Raviolo from Bar Bricco
CURRENT HOBBIES: Running, cooking and baking, hiking (summer), travelling and barre!
OCCUPATION: Media Manager - I plan and buy advertising campaigns for various clients.
WORDS TO LIVE BY: "Where you invest your love, you invest your life"
Carla instructs the following:
All the best parts of B Barre, condensed into a quick and easy format made for those lunch or early morning go getters. Warm up and weights are combined and more combination exercises and full body movements replace the cardio blasts.




50min High Intensity Low Impact rebounder fitness class.




Get all the benefits of rebounding without the intensity. 10 mins on the rebounder - 50 mins of standing and mat work. If rebounding is not for you, no problem all the rebounding work can be done on the floor with no impact.