Tess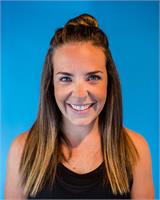 Height: 5 foot 2 eyes a' blue (I'm actually 5'3" but 5'2" sounds cuter)
YOUR B BODY: Will barre/bounce/run/swim/climb Everest for WINE!!!
DANCE EXPERIENCE: Almost none at all. I took ballet, tap, jazz when I was 6 until I was 9.
FAVORITE CHILDHOOD FASHION FAD: Matching sets! Complete with scrunchie!
CAN'T LIVE WITHOUT: Music!
FAVORITE FOOD/DRINK: Pizza (duh) and ice cold Strongbow on a nice hot day preferably at the lake!
CURRENT HOBBIES: Spin (one day I'll find that beat), hiking, gardening.
OCCUPATION: Trust Examiner for the CRA
WORDS TO LIVE BY: ""Fake it 'til you become it" Amy Cuddy
Tess instructs the following:
The original 60 minute class which incorporates full body, isometrics and mobility exercises into one jam packed, leg shaking, core blasting, muscle lengthening workout! The signature barre class of Studio B and the foundation for all other barre class variations.




50min High Intensity Low Impact rebounder fitness class.




Get all the benefits of rebounding without the intensity. This 50 minutes class give you 10 mins on the rebounder - 40 mins of standing and mat work. If rebounding is not for you, no problem all the rebounding work can be done on the floor with no impact.