Tess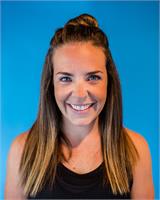 Height: 5 foot 2 eyes a' blue (I'm actually 5'3" but 5'2" sounds cuter)
YOUR B BODY: Will barre/bounce/run/swim/climb Everest for WINE!!!
DANCE EXPERIENCE: Almost none at all. I took ballet, tap, jazz when I was 6 until I was 9.
FAVORITE CHILDHOOD FASHION FAD: Matching sets! Complete with scrunchie!
CAN'T LIVE WITHOUT: Music!
FAVORITE FOOD/DRINK: Pizza (duh) and ice cold Strongbow on a nice hot day preferably at the lake!
CURRENT HOBBIES: Spin (one day I'll find that beat), hiking, gardening.
OCCUPATION: Trust Examiner for the CRA
WORDS TO LIVE BY: ""Fake it 'til you become it" Amy Cuddy
Tess instructs the following: