Claire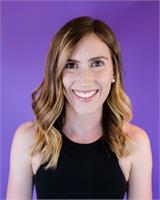 YOUR B BODY: I work out to clear my mind and challenge my body.
DANCE EXPERIENCE: I took ballet and jazz classes up until I was 15.
FAVORITE CHILDHOOD FASHION FAD: Leggings, over sized hoodies, and scrunchies! (not much has changed!)
CAN'T LIVE WITHOUT: My family and coffee (in no particular order...)
FAVORITE FOOD/DRINK: Charcuterie boards
CURRENT HOBBIES: Skiing, reading, dog park-ing
OCCUPATION: Supply Chain Coordinator
WORDS TO LIVE BY: "Humankind. Be both."
Claire instructs the following:
Bold isn't just in the name for fun, the B Bold class incorporates the bones of the B Barre 60 class but with added intensity and cardio which will leave you feeling like jello — in a good way. This is our heaviest cardiovascular intensive class, with five cardio blasts throughout class, while maintaining combination series, and mobility and flow movements to keep the heart rate up and those sweat glands active!




The original 60 minute class which incorporates full body, isometrics and mobility exercises into one jam packed, leg shaking, core blasting, muscle lengthening workout! The signature barre class of Studio B and the foundation for all other barre class variations.




B Strong is just as the name says, with the incorporation of weights in warm up and heavy weights in arms it will get that back of the body working right away. Building on the foundations of B Barre 60, B Strong turns up the resistance adding heavier weights, resistance bands and more focus on building long lean muscles. Targets the arms,abs and a**. Let's hustle for that muscle.




Building on the foundation of B Barre 60, B CORE Flow slows down the movement to turn up the flow. With an increased focus on breath, movement, flow, and flexibility this class will target the core from start to finish. We may have taken out the cardio, but that doesn't mean we have taken out the intensity. Get ready to flow your way to a stronger, tighter core.




All the best parts of B Barre, condensed into a quick and easy format made for those lunch or early morning go getters. Warm up and weights are combined and more combination exercises and full body movements replace the cardio blasts.