Jaclyn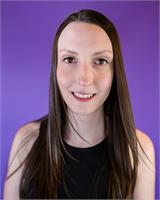 YOUR B BODY: Barre has made me feel stronger, look more toned, and improved my posture. It's also a good excuse to justify the amount of carbs that I eat in a day.
DANCE EXPERIENCE: I was actually never a dancer, so I learned a lot about the different positions and dance terms from years of taking barre classes!
FAVORITE CHILDHOOD FASHION FAD: I love scrunchies!! I'll still try to rock one once in a while.
CAN'T LIVE WITHOUT: Music - I am always listening to different kinds of music, and usually singing along.
FAVORITE FOOD/DRINK: I love Vietnamese food, like a vermicelli bowl or a stir fry with crispy noodles. I also love pizza.
CURRENT HOBBIES: Barre is definitely my main hobby, but now that school is finishing up I am getting more time to return to reading and playing piano or saxophone. I am also always looking for fun ways to stay active – right now I'm taking tennis lessons!
OCCUPATION: I'm currently finishing up my MSc in Occupational Therapy and am looking forward to starting my career as an OT in 2019!
WORDS TO LIVE BY: "My mission in life is not merely to survive, but to thrive; and to do so with some passion, some compassion, some humor, and some style." Maya Angelou
Jaclyn instructs the following:
The original 60 minute class which incorporates full body, isometrics and mobility exercises into one jam packed, leg shaking, core blasting, muscle lengthening workout! The signature barre class of Studio B and the foundation for all other barre class variations.