Nikki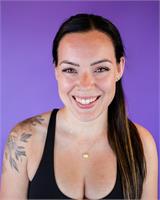 YOUR B BODY: Bounces for Donuts.
DANCE EXPERIENCE: 18 years dance experience in ballet/cecchetti/pointe work, jazz, tap, musical theatre, contemporary and hip hop.
FAVORITE CHILDHOOD FASHION FAD: Tie Dye Anything
CAN'T LIVE WITHOUT: My dog and essential oil diffuser
FAVORITE FOOD/DRINK: Still donuts… and anything Greek
CURRENT HOBBIES: Mala necklace making and exploring YEG!
OCCUPATION: RN in Labour and Delivery
WORDS TO LIVE BY: "Everything Happens for a Reason "
Nikki instructs the following: