Nikki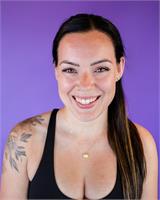 YOUR B BODY: Bounces for Donuts.
DANCE EXPERIENCE: 18 years dance experience in ballet/cecchetti/pointe work, jazz, tap, musical theatre, contemporary and hip hop.
FAVORITE CHILDHOOD FASHION FAD: Tie Dye Anything
CAN'T LIVE WITHOUT: My dog and essential oil diffuser
FAVORITE FOOD/DRINK: Still donuts… and anything Greek
CURRENT HOBBIES: Mala necklace making and exploring YEG!
OCCUPATION: RN in Labour and Delivery
WORDS TO LIVE BY: "Everything Happens for a Reason "
Nikki instructs the following:
50min High Intensity Low Impact rebounder fitness class.




This 50 minute class will get your heart rate lifted and your muscles burning. This class will be 25 minutes of cardio and 25 minutes of burn tracks to get those muscles to shake.