Briana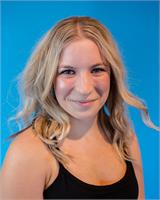 YOUR B BODY: Having a knee injury and thyroid problems it's amazing to see that I can still be active, get fit and feel good about myself and what my body can accomplish with Barre! Total side note- but I also simply love spring rollls, donairs and pasta far too much so Barre helps me have balance.
DANCE EXPERIENCE: only after some liquid courage lol
FAVORITE CHILDHOOD FASHION FAD: Crimped hair, butterfly sparkly clips and mood rings
CAN'T LIVE WITHOUT: My pups
FAVORITE FOOD/DRINK: Spring rolls, cabbage rolls, donairs, steak, lasagna - I don't think there's enough room for my complete list.
CURRENT HOBBIES: Board games (my husband and I own over 150 so cool I know lol), knitting, binge watching Netflix shows.
OCCUPATION: Paralegal by day - barre tender by night (kinda like Batman)
WORDS TO LIVE BY: "Go out there and decide who you are. Who might that be? It might be a winner" Wimbledon movie
"Empathy - feeling your pain in my heart"
Briana instructs the following:
All the best parts of B Barre, condensed into a quick and easy format made for those lunch or early morning go getters. Warm up and weights are combined and more combination exercises and full body movements replace the cardio blasts.