Kylee
April 28, 2017


This is Kylee! She is the complete embodiment of everything that we strive for as the BBS tribe. She is committed and hardworking in class. Although she is still a newer member to our tribe, she has completed over 250 classes in just 8 month. It is quite clear that she is a true barre addict. But what really landed her a spot on our BBS Hall of fame is her huge heart! Kylee lifts up the people around her and she is passionate about the community. We are obsessed with this type of 'women empowering women' attitude - keep it up Kylee!
READ MORE

Why do you barre so hard?
The upbeat music, the full body workout and the encouragement of the BBS community originally hooked me and then kept me coming every day. Almost immediately, I saw results; I felt stronger, my strength increased and I gained back some of the flexibility I lost after I stopped dancing regularly. I always look forwardto coming to the studio, and being a part of the incredible community at BBS has motivated me to push myself even harder.

What does being part of the BBS Tribe mean to you?
Developing strong friendships with some inspirational women at the barre truly keeps me motivated to continue coming back to challenge myself more each class. We celebrate our "small victories" together, like upgrading to the next set of heavier weights, accepting the barretenders' more challenging modifications,or crushing double (or triple!) classes together in a day. I make a point of trying to get to know someone a little better each class, whether it's the hard-working girls at the front desk or at Glow, congratulating the barrestar beside me on getting through a tough series, or acknowledging our talented instructors. I can truly attest to the fact that "women supporting women" make us stronger; the women in the BBS Tribe have really been one of the most influential reasons why I keep coming to barre classes.

What other exercise do you love (in addition to barre) to keep your routine well rounded?
To help with my conditioning when I was dancing competitively, I came across BeachBody's INSANITY program by Shaun T. It is challenging, but the max interval training is seriously addictive. My infatuation with INSANITY probably explains why I love the intensity of BBS' new Barre Sweat Tone classes so much. I also really like the SOAR classes at Holland Plaza -who wouldn't love a crazy-cardio dance party in the dark on Bellicon rebounders, right?

My barre bestie, Darlene, also promised to take me to a spin class soon. I have never been to spin, but it sounds like it would be right up my alley!

How did you get introduced to barre?
Being a dancer, I was very intrigued by the concept of barre fitness, but I admittedly had never tried it. I have three dance friends who instruct at BBS (Erin and Erika, as well as Lauren, who instructs at BBS in Calgary – Erika and Lauren are actually both former dancer teachers of mine!), so I started following BBS on social media to learn a little more. After dancing for 24 years, I recently took a little hiatus from dance, and with our wedding over, I suddenly had so much more free time this Fall 2016. This was all perfect timing because about a year after I started following BBS, I saw a post about a free class Megan was teaching for Holland Plaza's first birthday. I decided on a whim to sign up and see what all the fuss was about with my new found free time. I was a little anxious that day and didn't really know what to expect, but I met the sweetest girl (Rebecca) at my first class and I really enjoyed the challenging workout. Barre was a lot more difficult than I expected. I decided to stick around with the new client trial pass, then the October challenge started and I knew I had to get a membership so I could keep coming to classes; it's safe to say I have become addicted to barre and feel so welcomed by the BBS Tribe that BBS really is my second home now.

Favorite way to treat yourself?
I do my best to meal prep and eat clean during the week, but I definitely indulge on the weekends. My favourite guilty pleasure to treat myself every weekend is poutine (my husband and I have poutine together almost every weekend, and we love this ritual so much that we even served a deluxe poutine bar as a late night snack at our wedding this summer to our guests. We take our "poutine routine" very seriously.). Also, my friends know I have a major obsession with cupcakes.

Tell us something that we don't know about you!
I danced competitively for 24 years. It led to some incredible experiences, like performing on a cruise ship, dancing at Disney's 50th Anniversary celebrations at Disney World in Florida, being accepted to train in the Royal Winnipeg Ballet's summer intensive program,performing in Alberta Ballet's The Nutcracker, and even being an Edmonton Eskimo cheerleader for six seasons. Dance is certainly my passion, and even though I don't have the time to take classes anymore, I still put on spontaneous musical theatre performances while I'm at home alone… dance will always be a special part of my life.


Kerryn
Feb 28, 2017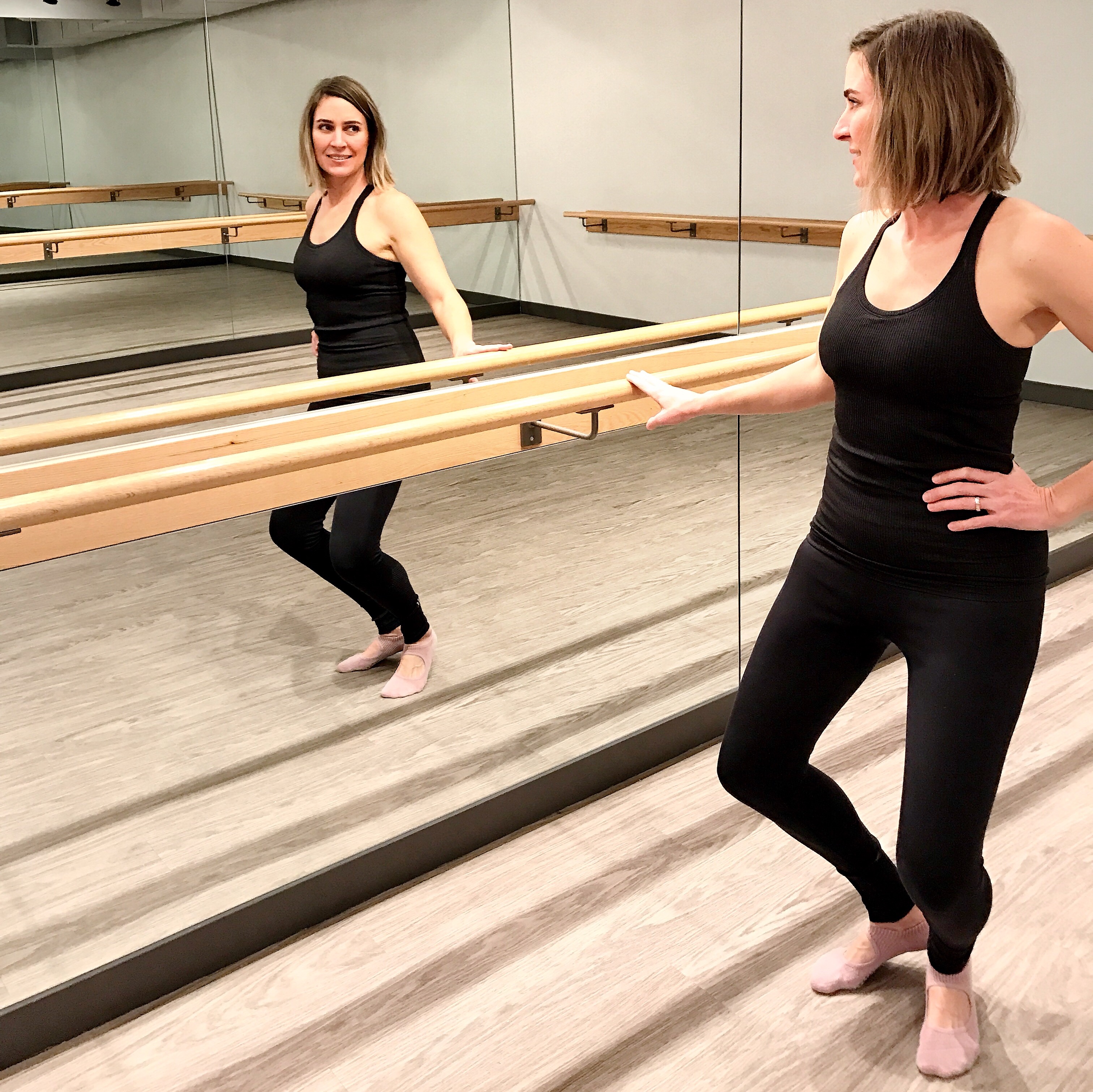 Kerryn has been with us since the very beginning - even before the our Whitemud Crossing location. She has rocked out over 460 classes and is well on her way to BBS Super Star status. She has recently been loving SOAR classes to compliment her barre practice and to keep her fitness routine well rounded. Kerryn's sweet presence, positivity, and charming accent ;) is exactly what landed her a spot on our BBS Hall of Fame.


READ MORE

Why do you barre so hard?
I love the whole-body strengthening approach of barre. As a runner, I credit barre with injury prevention. Barre is ideal for targeting small muscles and is also a great upper-body and core workout. I've been loving the SOAR classes, too: cardio, obviously (you'll usually find me a few beats behind the instructor), but a terrific core workout and good for ankle stability.

What does being part of the BBS Tribe mean to you?
The atmosphere at barre is energising and positive. Over the years,
in those pre-class minutes, I've met some fantastic, inspiring people—those real connections make barre even better! I also love that BBS is run by sisters. I've loved watching how Megan and Elissa have grown
the business and built such a welcoming culture.

What other exercise do you love (in addition to barre) to
keep your routine well rounded?
I run year-round, three to four times a week. I can recommend running as a way to make peace with the long Edmonton winters. I'm Australian: if I can do it, you can do it!

How did you get introduced to barre?
I first heard about BBS on Twitter. I was recovering from a running-induced stress fracture and thought barre sounded like the perfect low-impact, strength-building workout. My first class was with Megan in the early, temporary studio in Oliver. I bought a pair of bright pink toesox, set up my preschooler on the other side of the glass with with snacks and an iPad (textbook parenting strategy!), and the rest is history.

What is your favorite quote?

"Nothing makes the earth seem so spacious as to have friends at
a distance; they make the latitudes and longitudes." Henry David Thoreau

What is your favorite book, movie and/or tv show of all time?

The West Wing. My husband and I watch the entire series—all seven
seasons! - every couple of years. It was good therapy during the
2016 US election.
Michelle
December 15, 2016


This is Michelle (and our favourite little guy, Nathaniel!) - both being very frequent barrestars, these two landed a spot on our Hall of Fame as December's Member of the Month. Michelle is coming up on her two year anniversary @ BBS and in these past two years, between a wedding and welcoming this sweet little into the world, what an exciting two years it has been! Michelle continued to take classes right up until two days before Nathan was born, her motivation and commitment to her own fitness and wellness throughout her pregnancy is such an inspiration to us. You can now catch this momma-baby dynamic duo raising the barre together at baby barre each week (little N has been working hard on his plank + superman). Also, props to this busy mom for making the time to get to Fit class every once in a while too. We are so fortunate to be able to share a little piece in the journey of all of our barrestars, Michelle and Nathan included!


READ MORE

Why do you barre so hard?
I barre so hard because it makes me feel amazing! I feel strong and energized and capable! It has benefited me through all aspects of my life. I find that it truly is a full body workout that you can't master; the classes are always varied creating new challenges and goals to strive for which keeps me coming back!


What does being part of the BBS Tribe mean to you?
The barre community is amazing! The instructors are so upbeat and genuine. They along with the tribe are so supportive and motivating - I don't know how many times I've looked up from a really challenging series to see a fellow barre star pushing through giving me the strength to keep going for another 8! Aside from the amazing workout I also look forward to coming to class to see everyone!

Tell us your experience with both pre and post natal barre?
I was lucky to have a great pregnancy and was able to do barre until 2 days before Nathan was born. Near the end of my pregnancy I wasn't able to go for walks anymore but thankfully I could still do barre!! I am sure that attending regular barre classes helped to keep Nathan and I strong and healthy and the support I received from everyone at the studio was amazing. It definitely helped to keep me positive and motivated! Doing barre through my pregnancy also helped me bounce back. I found it easy to get back into classes and enjoyed doing moves and series' that I wasn't able to do while pregnant - such as plank on the barre!

How is Baby Barre different than your typical Barre Body Fit class?

Well aside from the additional 16.8lbs? Not too much! It is still a great work out with great music and great motivating barre tenders and barre stars!! That being said, some positions are certainly more challenging, chair or relieve work for instance can be particularly intense! My absolute favourite part is being able to work out with my favourite little sidekick.

What is your favorite move @ the barre?

I am honestly not sure if I can pick a favourite move, I enjoy all aspects of class! If, howeever, I had to narrow it down I think I would have to go with second position chair (awful I know - but I love the challenge, the burn and the shakes!) or plank - I am always up for a good plank series!

What other exercise do you love (in addition to barre) to keep your routine well rounded?
I think I was a mermaid or fish in a previous life - I love to swim! I also like to go for walks and last year I took up Pole Dancing - it was so much fun as well as a great workout!

Tell us something that we don't know about you!
I make quilts! To date I've made about 20. My husband calls me his old biddy.


If you could travel anywhere, where would you go?
I love to travel! Europe is my favourite place to go! I am hoping to eventually make it to Greece and Turkey but would go back to Italy or Germany in a heartbeat!!





Jenn
October 24, 2016


Hey tribe, meet Jenn! As soon as Jenn took her first class at BBS Holland Plaza, she knew it was love ... the rest is history! Not only is her commitment so inspiring to us, we are also always blown away by the good vibes and positive energy that she brings into each class! It's a fact - if you're in class with this firecracker, you'll be smiling the whole time!
READ MORE

Why do you barre so hard?
Barre has completely changed me. It has changed my opinion on exercising. Elissa said it best, 'if it wasn't hard, no one would come back.' I love pushing myself to new limits. I love the feel of being stronger and being proud of exercising. I want to be a role model for my boys by showing them the importance of being active. I finally found a form of exercise that works for me, gives me the results I strive for and that makes me proud!


What does being part of the BBS Tribe mean to you?
We are a team working out together, inspiring each other and celebrating each other's accomplishments. I've been so inspired by others who come regularly, continue to push themselves and have a fantastic strong body to show off. I also can't say enough about the instructors. Every one of them has their own style; their own strengths. I have learned so much about our own physiology and how to use our muscles for optimal results. The girls have changed my opinion on exercise, they've encouraged me to reach new levels of strength and most importantly, to keep smiling. They are such an amazing group of women!

What keeps you inspired and motivated?
I love knowing that I have changed my body. It was no magic pill and it didn't happen overnight but through hard work, my body has become stronger and leaner. I see how proud my husband and my boys are in my increased activity level and I know that I couldn't be that new person had I not tried Barre. Finally, as soon as I feel a new level of strength, I am then introduced to something harder and I am determined to conquer that as well!

How did you get introduced to barre?
A colleague from Ontario mentioned to me that she had attended a Barre class in Toronto and had loved it. She described in great detail how Barre differs from other forms of exercise. It sounded like it was perfect for me. I remember walking into the Whitemud Crossing location and meeting Katherine. She was so friendly, so encouraging and I knew I had to give it a try. My first class was with Katarina. If you can survive a Katarina class you can survive anything!!! Megan and Elissa warned me that I would feel some muscle fatigue and soreness the next day but they encouraged me to return despite how my body was going to feel. I came back the next day and the day after that. From then on, I was hooked!

What is the best "side effect" you have noticed from barre?
I'm embarrassed to admit that I didn't realize my butt was connected to me by muscle! I love having a stronger and less flabby backside!!

Where could we most likely find you after the barre?
More often than not I can be found picking up my "after workout Americano" at Starbucks. It's an addiction! I can't help it!

Tell us something that we don't know about you!
I am a die-hard Toronto Blue Jays fan! Baseball has been a part of my entire life. I am so proud to watch my two sons embrace the sport like I have. Maybe one of them will end up in the big leagues so that Momma doesn't have to work…



Karen
August 10, 2016


Meet Karen, our most recent inductee into the BBS Hall of Fame + our Member of the Month for August! You've probably seen her around the studio a time or two, as she has been a member for three years and rocked the barre over 400 times! Now the first thing that you have to know about this BBS tribe member is that she is HILARIOUS! Her humour lights us up every time, but once you get her in class, it is nothing but focus and hard work. Plus, she also entirely embodies one of our favourite mottos, "barre first, beer later." ;)


READ MORE

Why do you barre so hard?
Barre makes me look and feel better. And honestly, I barre so hard so I can drink beer and eat Hawkins cheezies!

What keeps me inspired and motivated?
The instructors! I love the variety that each instructor brings to their classes. Even after 3+ years, it's still a challenging workout.

What is your favourite move at the barre?
I kinda love them all, except sideline! Kills me every time.

What other exercises do you do (in addition to barre) to keep your routine well rounded?
Yoga, at least once a week. It helps me maintain my focus and flexibility, and keeps me mentally stronger.

Where could we most likely find you after the barre?
That depends, on weekends I'd be at Costco or Superstore, and on weeknights I'd be drinking beer.

If you had to choose 3 words to describe yourself, what would they be?
Friendly, open, energetic!

Melanie + Ramona
March 2, 2016


Meet Melanie and Ramona! With over 500 classes combined, these sisters are definitely familiar faces around the studio. Not only do they challenge themselves in each and every class to push the limits, they also use each other to say motivated. Check out what these BBS Hall of Fame inductees have to say about their own personal barre journey and the perks of taking on fitness with a friend!


READ MORE

Why do you barre so hard?
Ramona: I barre hard because I just love it! It is a different type of workout than anything
that I have done in the past years. It's better for me and the change is really good! I also love the studio and all the great ladies!

Melanie: It's simple, barre is addictive. From that crazy shake n' burn, to the incredibly motivating instructors, to the energy of the class format, to the friendships made, to sweating it out with my sister and barremates, to seeing my body transform from weak to strong…..the love for barre just gets deeper and deeper.


How do you keep each other motivated and inspired?
Ramona: We really like to go to class together. Its fun! We always plan the week out so that we can have a few classes together, for sure! In class, I feel like we also work harder because one is watching the other!!!

Melanie: There's nothing like a little sisterly nagging to keep you going to barre class!

How has barre impacted you?
Ramona: I feel so much better since I have started doing barre. It has been over a year now, I have lost weight and inches!! My posture is better too. My husband likes it!

Melanie: It has completely changed my life. For years I had a job that required a heavy travel schedule and long work hours. I was chronically tired, I ate poorly, and I had no energy or motivation to even humor a fitness schedule. Then the travel ended, that half-packed suitcase was put away and for the first time I had "time". Time to spend with my family, time to focus on healthy eating, and time to get into shape. Ramona had always said that it would be fun to do boot camps together but I was always on the road. Then there was that fateful day in November 2014. Ramona and I were out-and-about together, drove by the studio, and decided to check it out. We walked in and met the lovely Elissa, signed up for the two week unlimited trial and the rest is history


How is working out with a partner different than working out alone?
Ramona: I don't mind working out alone but it is more fun with a partner. You work harder and are much more motivated. Even if Melanie is not in class with me, a few of my new barre friends always are!!

Melanie: I have realized that I thrive on working out "with" people, sharing in the experience together, sweating it out together. What could be more fun than working out with your Big Sis and BFF? Not only did I gain a great workout partner with my sister, but I gained an amazing workout family at Barre Body Studio. During class we all motivate and encourage each other, and that makes for a great workout! I am so grateful to all at Barre Body Studio!

Where can we most likely find you after class?
Ramona: Well, if Melanie and I are in class together its trouble. We often end up shopping at Southgate, Winners or the Italian Centre after!

Melanie: Out walking my dog, Wolfgang, in the river valley, spending time with my family, or cooking with my hubby and pondering on how that bottle of wine went down so quickly!


What is your favourite move at the barre?
Ramona: My favorite move is first position plie. It makes me feel like I am (kind of) a dancer!

Melanie: Plank variations and mountain climbers!


If you had to choose 3 words to describe your sister, what would they be and why?
Ramona:

Confident- being 5"11 helps

Fun - She always likes to get out there and do things, new adventures, laugh!

Compassionate - It is the nurse in her, taking care of her family when needed is very important to her. We can always count on her too. I love my little sister!

Melanie:

(Best) Friend – Ramona is my big sister and best friend. In our adult years we have become very close. She is my bestie, my confidante, my dear, sweet sister that I would do anything for.

Beautiful – Inside and out!

(Always) Present – Ramona is a big part of my life. She is always there for me and has always been there for me over the years. For 17 years I lived in the United States, I missed home terribly, and even though I lived so far away I always felt close and connected to my big sister.
Richelle
Dec 9, 2015

Junior high teacher, full-time momma + absolute barre addict, Richelle, has been crushing it at the barre since the very beginning. Richelle kept up with her barre practice throughout her entire pregnancy and jumped back into it shortly after her little guy was born. In her Hall of Fame post, Richelle shares her prenatal exercise experience and talks all things baby barre!


READ MORE

Why do you barre so hard?
Its an unbelievable work out! The music motivates me, the barre tenders are all so fantastic with their unique teaching styles and class routines! I always leave class exhausted and happy knowing I am leaving stronger and ready to take on the rest of my day!

What keeps you inspired and motivated?
The other amazing women in the room! Seeing women of all ages and fitness levels give it their all is so fantastic! This motivates me to make every second of class count, even if I am exhausted or having a bad day. Plus the awesome music and encouragement of the incredible barre tenders never hurts either :)

What was your experience using barre as prenatal exercise?
It saved me! I did barre 4 or 5 times a week right up until two days before my due date! I probably would have kept going, except it was
Christmas and Barre was closed! Ha Ha. I was exhausted and sick my ENTIRE pregnancy. But believe it or not, getting out of bed at 5:30 before work actually gave me the energy I needed to give my students my all at school. It also helped curb that nausea which was a huge help! Anyone who has given birth knows that that is the most insane physical thing you can put your body through, so I wanted to make sure I trained for it! Ha Ha. Plus, I had worked so hard to get into better shape prior to becoming pregnant, I didn't want all that hard work to go to waste! I was hoping to bounce back as soon as possible!

Tell us about baby barre! and Post-natal, how has barre been working for you?
I loved bringing my little man to baby barre. It is tough for the first little while to find child care and when you are nursing, you cant leave them for long! It was a great way to start getting back into shape while still being with my little man. Unfortunately, I had an emergency c- section, so my recovery was much longer post natal than I would have hoped. That said, Baby barre was a great way to transition myself back into it while my body healed! My peanut was over 9 lbs at birth, so we didn't last in Baby Barre too long, but fortunately, I have been able to make it back to bands and fit classes at least once a week since then. Thanks to barre, I'm feeling ( and looking) like my pre baby self.. which by no means is perfect.. its always a work in progress! Ha Ha.

How has barre impacted you?
It has helped me to improve my fitness level, to tone and strengthen different parts of my body as well as to feel confident in ways I haven't before.

What is your favorite move @ the barre?
The arm series. NO QUESTION! It is so tough, but definitely my favorite part of the class! I always force myself to use the 5 lb weights to maximize that arm work out! As we get older we need to keep those arms as tight as possible!!! I also absolutely love monster walks with the bands, and inner thigh work with the ball. I'm determined to be the first one to pop it!

What other exercise do you love (in addition to barre) to keep your routine well rounded?
I speed swim twice a week with a great group of ladies and a killer coach that always makes sure to kick our butts! I do a private HIIT class twice a week and Spin is also in the rotation!! In the winter I love to ski in the mountains, and in the summer, my favourite thing to do is run in the River Valley!

How did you get introduced to barre?
Megan and Elissa's sister in law, Shauna told me about it when they were first starting out! From the first class in that studio down town I was HOOKED! Barre was my go to to get in shape before my wedding!! Megan and Elissa are such wonderful, genuine people, as are the rest of the talented team at Barre Body. I love coming to a studio owned/ operated by such incredible individuals. The atmosphere is always positive and welcoming!

What is the best "side effect" you have noticed from barre?
The toning in my legs for sure! Nothing else tones your legs like barre. Even though I hate that LOOONG chair series!!

Fit, Bands, Stretch + Core, Blast – What's your favorite and why?
Bands! Everything is just that much tougher! What can I say… go big or go home! Plus the stretching with the bands is so awesome.. a great reward for those muscles after all that hard work!!

What advice do you have for your fellow barrestars?
Make every minute of that class count. Leave your stress at the door and don't ever feel guilty about taking an hour to do you! We are better wives, mothers, sisters, daughters, friends, entrepreneurs, career women when we take care of our selves too!

Tell us something that we don't know about you!
I am a junior high social studies and math teacher, and I am a HUGE nerd when it comes to all things politics, history and current events. I could talk about the above for hours and hours on end!

What is your guilty pleasure/ pleasures?
Bubble baths, Champagne, gangsta rap, tough work outs, and online shopping!!

What is your favorite quote?
All time favourite has GOT to be " It doesn't matter how young or old you are, what matters is your graciousness. If you are gracious, you have won the game" said by the one and only Stevie Nicks. I'm obsessed with her! She is just fearless as an individual. Not only she is talented and intelligent but she just goes after what she wants in life and makes no apologies for it.