You may recognize this pretty, new face around the studio ... she is our newest instructor, Jessica! Not only is she already a boss at the barre, she is also this months #GirlBoss. Read on to learn more about her background in dance and how it led to her creation of Intellidance®.





We started by asking her a bit about herself and her background. Fitness and dance play such a huge role in Jessica's life, and here she tells us all about it and how she uses it as a muse to create her program, Intellidance®.
I have been working as movement educator in Edmonton for the past 16 years. I
have spent most of my life dancing because I love the physical, mental, and spiritual
benefits moving provides me. As a young adult I began to explore many other ways
to keep moving such as pilates, yoga, and general fitness and found they brought me
the same holistic benefits as dance. To me dance and fitness have never about
perfection or competition, they simply a way I experience JOY! I wanted to share this
joy with others.

In 2005 I graduated from the U of A with a degree in Education and after a short
stint working for the public school board, my first daughter was born in the Spring
of 2006. I realized I wanted to combine my loves of dance, education, and my
beautiful baby girl into a career. I began working full time as a dance and fitness
teacher, running a studio called J'Adore Dance, creating programs that specifically
catered to young families. As I watched my daughter grow, I spent more time
researching how movement in early childhood supported critical brain
development. I created dance and music activities based on my research to bond
with my daughter at home, and eventually began to share them with the families in
my dance classes. In 2008, when my second daughter was born, I officially launched
the Intellidance® programs. In 2010 I launched an in-person certification and
licensing program so others could teach and bring the Intellidance® programs to
their community. In 2015, along with the help of my awesome, web programmer
hubby, we launched an online certification and licensing program for Intellidance®,
allowing movement educators from around the world to bring Intellidance
programs to their communities. In the Spring of 2016, I made the decision to sell my
studio J'Adore Dance, so I could focus on developing the international and online
aspects of Intellidance® and enjoy a less hectic lifestyle after 10 years of studio
ownership.

It been a wonderful, sometimes crazy, experience growing two successful businesses
from the ground up. I often look back on the last 10 years and wonder how I
managed to achieve so much as a young, usually sleep deprived mom, but I am so
thankful I took and risk and followed my dreams! You never know your true
potential unless you challenge yourself to grow!




Next Jessica goes on to tell us about all things Intellidance®. She lays out the values, structure and ideology behind her program and her brand.

By combining my background in early childhood and dance education, the
conceptual, brain-compatible dance education model created by my mentor Anne
Green Gilbert (www.creativedance.org), and scientific research that supports the
importance of movement in development, I have created a robust program model
that is fun with purpose!

Intellidance® is a unique series of creative dance programs that foster critical
development in children ages 0-5. Combining movement vocabulary and dance
concepts, Intellidance® programs lay the foundation for lifelong physical literacy on
and off the dance floor. (https://www.intellidance.ca/about)

Intellidance® is a playful and creative approach to movement education in the early
years. My programs are based on current best practices and recommendations in
early childhood development and education, coupled with child and
caregiver-approved fun!

The program model combines exploration and discovery with dance, music, and play
designed to nurture the littlest dancers, while strengthening the caregiver-child
bond!

When I am creating new curriculum and activities for Intellidance® I am looking at
3 specific areas:

1)How do I create an activity that supports the Music/Movement concept being
explored in that lesson?

2)How do implement the activity using best teaching practices for the specific
learning needs of the age group of that class (Babies (3-11 months), Tykes
(12-24 months), Tots, (2-4), Kids (3-5)) and also ensure I have modification
to suit the diverse needs of all learners?

3)How does this activity support specific developmental targets (physical,
cognitive and social/emotional)?

I'm a very playful, creative, imaginative person, so I love being able to bring that to
my activities, but I also am very analytical, so I love breaking down those activities
and really looking at how they can help children grow and learn. I am always
balancing my inner artist with my inner scientist. Some common comments I hear
from student going through the Intellidance® Method Certification is how in-depth
the training is, how it changes the way they think about and understand early
childhood dance, and how it challenges and changes them to be the best teachers
they can be!

Nothing brings me greater joy than seeing what a positive impact Intellidance® has
on young children and their parents! Every time I teach an Intellidance® class I feel
like to get to witness the best of humanity: joy, love, and community! Having an
online platform to share my methodology, curriculum, and proven business model
has given me the opportunity to reach movement educators from all over the world.
Watching their class videos always makes my heart sing, as I get to witness the
families in their communities experiencing the same benefits and joys. I feel like
sharing Intellidance® is a small way I can make the world a kinder, happier, better
place.

Having been a business owner, I know first-hand how challenging, stressful, and
lonely it can be running a business of your own. I spent much of my first few years of
business fumbling along, so I'm thrilled to have a licensing program that allows me
to support other small business owners and share my successful business and
marketing strategies with them. Most dance teachers go into business for
themselves because they love to teach, but often end up so dragged down by
branding, administration, and business development they spend less time teaching
and have reduced job satisfaction. I love helping my Intellidance® licensees develop
impactful business strategies that allow them to do more of what they love - TEACH!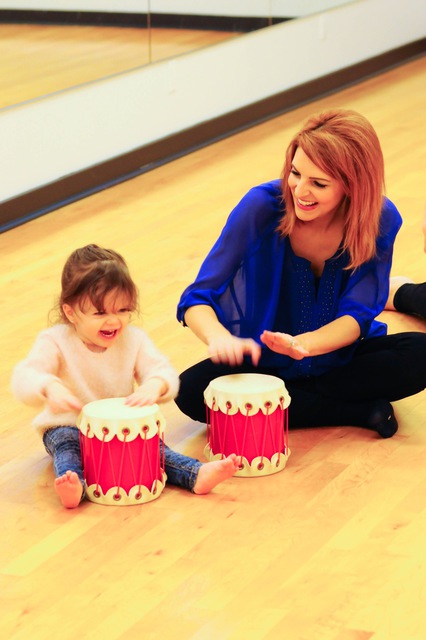 Finally, Jessica brings it home by talking about her connection with and in the community and what this means for her business.

I will proudly say I am a community builder! In 2013 I had the pleasure of being
selected as one of Avenue Magazine's Top 40 Under 40, for being a community
builder for new moms and their young families. I strongly believe in the current
business world, all successful businesses are based on building a common
community for their customers. This means building relationships with your
customers and building them up! My goal is always to have people leave my classes
feeling happier than when they arrived. I try to connect people within my classes
and online networks so they can take the strength and connections of our
community into day to day lives. The young family community in Edmonton has
exploded over the past 10 years and I am proud to have been part of that
development. My greatest business successes have never been monetary, but the
lasting relationships I have built with people in the greater Edmonton area. My hope
is I can translate this successful local community and bring it to an international
level with Intellidance®!




Contact Information:

Website: www.intellidance.ca
Youtube: www.youtube.com/user/Intellidancing
Instagram: @intellidancing