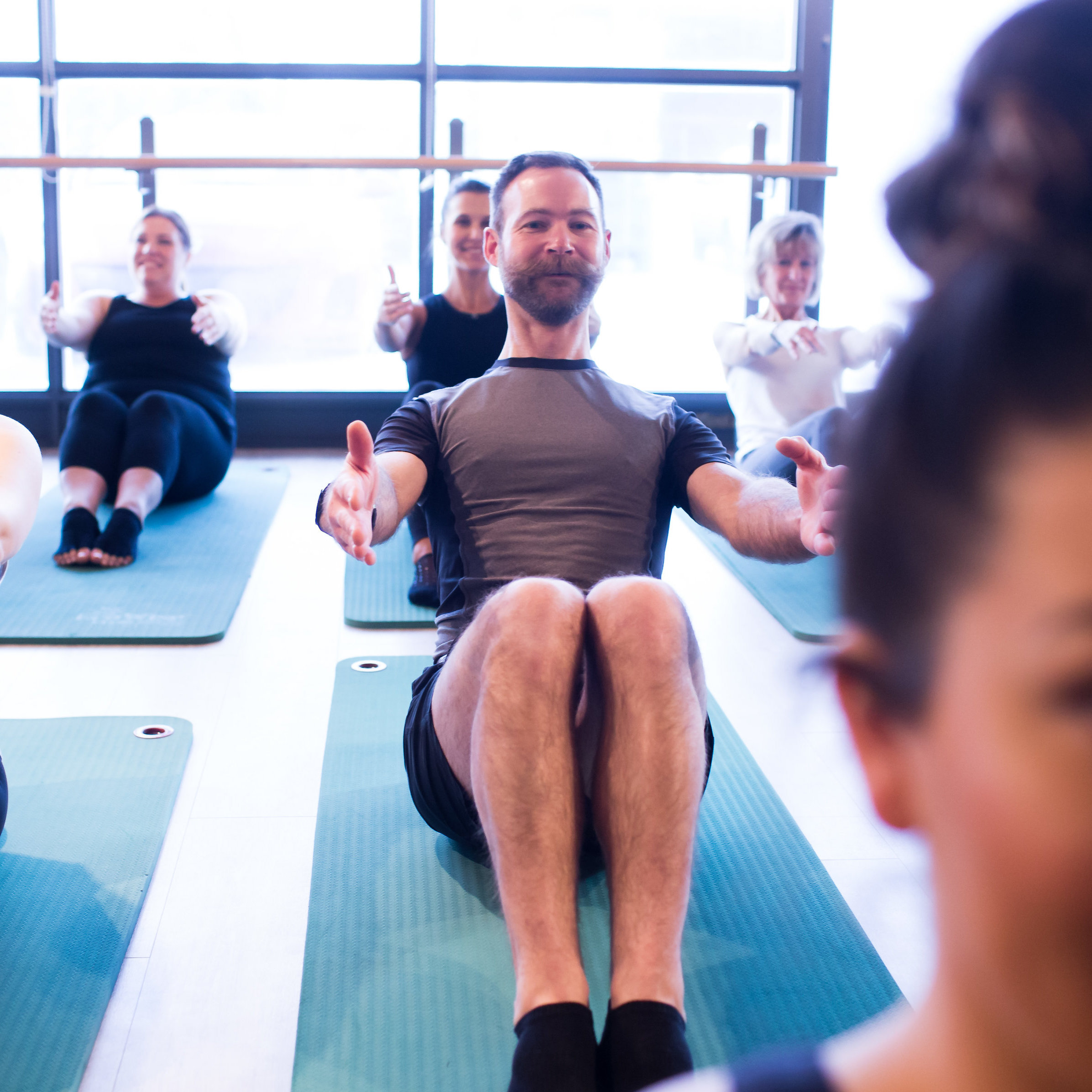 Meet Jordan - a man who has been coming to barre hard with us since before we were even open! Jordan started coming to class when we held our very first boys at the barre class back in 2013, and has been coming to us ever since. He began his barre journey by discovering the benefits of ballet as an adult, and joined us not long after. Whoever said barre was just for women, right?! Keep reading to find out more about Jordan and his barre journey.
Why do you barre so hard?
I barre for the other benefits in my life. I didn't take good care of my body when it was new, so I have lots of aches to deal with, but I still like to stay active in my work and my play. Barre helps me with my flexibility, core strength, balance, and proprioception to maximize my performance in other sports. Except for the morning after class, I feel much better for my time at Barre. I started because I wanted to be in better shape and feel stronger. I keep on because the variety of exercises we do during the class: strength training, stretching, weights works out all the muscles in my body. I really enjoy how Barre is a near-perfect mix of yoga, Pilates, ballet training, strength training, balance, and endurance.
How has barre impacted you?
For most of my life, exercise and active living weren't things I did – they were just things that happened to me. Work was physical, and I've always been involved in sports or activities that kept me moving. As I aged, work became more sedentary and I had to put more effort into staying active. By spending time at the Barre, I've regained some core strength and flexibility, and I've found a fun, positive, and supportive group of people to train with.
How did you get introduced to barre?
My sister-in-law was a ballet teacher, and she convinced me to take her adult beginner ballet classes. It was fun, and it helped with my flexibility and strength, so I stayed in the class until she moved to Toronto. When trying to find another ballet class, classes were either way too serious, or the teachers looked at me and announced that the classes were full. I stumbled onto Barre Body Studio while trying to find a ballet class that would take me.
What keeps you motivated and coming back to barre?
Mostly, it's because I have fun. The instructors are motivating and entertaining, the music's good, and in every class I can challenge myself to work a little harder. Even if I come in tired or sore, the instructors bring the energy to pick me up and get me sweating. I see the benefits of regular attendance through strength and stamina, and keeping my body looking good caters to my vanity.
Other than barre, what other activities do you do?
My main activity is skiing. I teach skiing and snowboarding for fun, and I plan my winters around making time to ski. The best trips, back country touring, don't involve ski lifts; instead we glue climbing skins to our skis so we can climb mountains and ski down. Since we aren't lucky enough to have winter all year, I round out my activities with cycling, horseback riding, walking my dog, and windsurfing.
Tell us something we don't know about you?
For many years, I was a farrier. I took care of horses' feet, which included trimming their toe nails, making and applying shoes, and managing conformation or lameness problems. It spins off into the hobbies of blacksmithing and anvil collecting.
What is your favourite way to treat yourself?
There's something magical about springtime ski touring in a secluded valley in the mountains. Climbing a mountain on a cool but sunny day, without a sound other than the slipping of skins on snow and clicking of boots on skis – not even the birds sing up there – taking in the majesty of the peaks surrounding the group, and finding that perfect slope with light, soft snow to play in for the ski down. Repeat that all day, and finish it with a beer while soaking in the afternoon sun…
What is your favourite barre move?
Do the deep, cleansing breaths at the end of class count? There are some variations on sideline series that I like, targeting the glute med, obliques, and the outer leg. Chair always feels like I'm becoming a better person. 4th position plies build character…