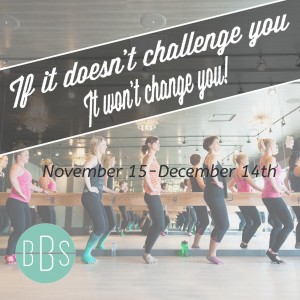 Starting November 15 take our 30 day "If it doesn't challenge you it won't change you!" Challenge
The holidays are just around the corner and it is easy to get off track with your health and fitness goals. Join us and commit to a minimum of 20 classes and healthy eating to keep you on track and get you ready to rock that little New Years Dress or Bikini on the Beach!
Monthly Auto Renew Members sign up for $125.00
Not a Member sign up for $250.00 (Includes an Unlimited Barre Pass Valid From Nov 15-Dec 14)
To help keep you accountable to your goals we are offering the following incentives;
Complete 20 classes and receive $50.00 back
Complete 25 classes and receive $50.00 back as well as be entered to win a One on One session with your favorite Barre tender and a Barre Body Studio Prize pack.
Included in your registration fee is a 30 day meal plan with a step by step guide to creating healthy delicious meals and recipes for Breakfast, Lunch and Dinner. Don't worry it does allow a few cheat meals so you can enjoy your Holiday Parties.
Limited space Sign up early to ensure a spot!